One of MIRAD's core competencies is the production, manufacturing, tuning and testing of waveguide assemblies. Since the early 90's we have been designing and producing customized rigid waveguide runs or assemblies for our clients. Thanks to our excellent infrastructure combined with our highly skilled team, we are able to offer very short and flexible delivery times for the production of our high-quality waveguides.
MIRADs service and know-how is already available to you in the early planning phase. We create circuit diagrams, take over system consulting and optimization or carry out the construction work for you. Of course, you can also contact us with a production-ready drawing and receive your customized solution according to the world-renowned Swiss precision standard.
Our inhouse manufactured waveguides are also integrated into our systems, such as redundancy switching units for our feed systems, as a connection between our coupler-filter-combiners in our switching and combining systems, or as a complete waveguide run to connect your HPA to our feed system in your antenna. Depending on your requirements and needs, we also offer an extensive portfolio of waveguide accessories, such as:
MIRAD has designed a series of pressure windows optimized for the use in common earth stations where a low overpressure of almost 50 mbar protects the waveguide system against moisture and dirt. Only highest quality grade of materials are used to manufacture each individual pressure window and to maintain the high performance of your entire system. They are available for all common waveguide sizes and flange standards. 
The MIRAD microwave air inlets are available for all common waveguide sizes and all common flange standards. The air inlets are the indispensible component in every waveguide system and can be combined with an connector defined by our clients.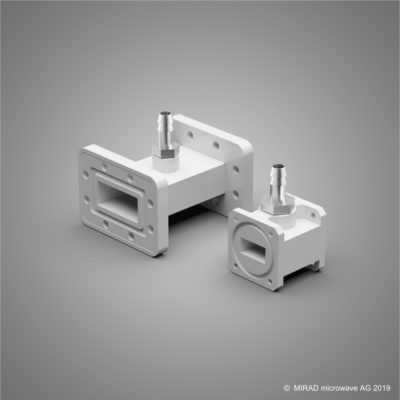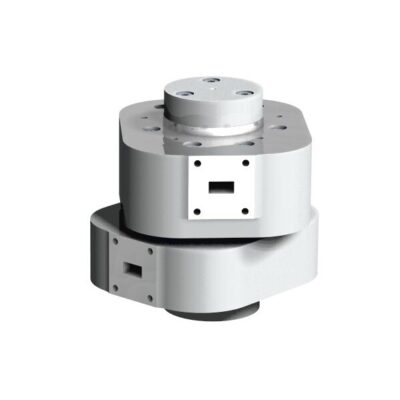 Satellite ground terminals, radar stations and VSATs often need to be able to rotate around multiple axes. This requires flexibility of the waveguide run from the HPA to the feed system. This problem can be solved either by using flexible waveguides (flexguides), but these often have poor performance in terms of return loss and insertion loss, as well as mechanical limitations in terms of rotation and lifetime. For this reason, MIRAD has developed different rotary joints for all waveguide sizes and in various configurations such as L-, I- and U-style. Swiss precision manufacturing ensures long-life operation with extremely low losses and best mechanical and electrical performance in any position.
Please note that all waveguide assemblies and accessories are available in a broad range from S-band to V-band for different standard and customized flange types and configurations. Just contact us with your specific requirements and we will provide you with all necessary details immediately. Our engineering is at your service to design a customized solution.